As a pet owner of a 5 month old kitten, I am always looking for better ways to make my home smell like a HUGE litter box. I was recently given the chance to review Litter One.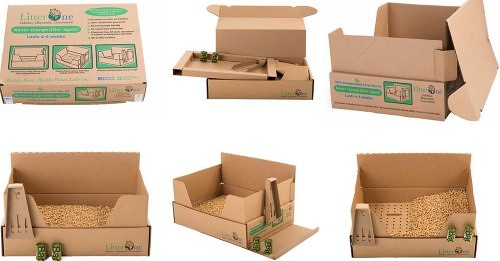 How does Litter One work?
Litter One kits are equipped with a patented method for the removal of cat urine from a litter box. The unique manufacturing process of the all Natural Pine Pellets used in Litter One kits allows the pellets to dissolve into sawdust when they come in contact with urine. Litter One's patented "False Floor" allows the sawdust to fall through the perferated false floor. This effectively makes scooping cat urine a thing of the past!! It also keeps your cat from stepping on soiled litter and provides a cleaner, happier home for both you and your pet.
Each litter kit contains a disposable scoop and disposable waste bags. It's a green alternative to traditional clay litter, safe and chemical free.

Each litter box measures: 19″ L x 14″ W x 9″ H sides; front opening = 4 1/2″ H x 11″ W

The Litter One kit's components are designed to breakdown quickly to protect the environment.
Review:

The kit was very easy to set up. It comes with easy instructions right on the box. Smokey was a little hesitant the first few times he used it. He is use to regular cat litter. After a few times using it, he has not issues going. I have noticed no odor since switching which is a plus to me!
Disclaimer: This product was sent to me for review purposes only. No payment was received for this review. My reviews are based on my personal opinions and experience using the item. All opinions are my own and 100% honest
.