Sisters Gourmet started out in the beginning, in there home kitchen preparing mixes over fifteen years ago. They both have always had a goal of making baking easy and convenient, simple to prepare, one-bowl recipes, leaving you less time in the kitchen and more time with your family and friends. Who doesn't love that idea? They have made a commitment to offer the highest quality ingredients available, many of which are all-natural, made without artificial colors, flavors, or preservatives. Mom used to always tell us that, "Good things come to those who bake."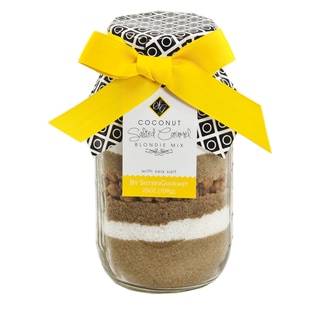 Crisp & Colorful Coconut Salted Caramel Blondie Mix makes a pan full of chewy treats, loaded with coconut, caramel and a touch of sea salt.
Review:
I decided to bake this blondie mix while visiting my parents. I love how easy it is to make. I just softened one stick of butter and then mixed in two eggs. Once that was all mixed up I mixed in the blondie mix. I then coated my baking dish with cooking spray. It took 25 minutes to bake and this is the finished product:
Disclaimer: This product was sent to me for review purposes only. No payment was received for this review. My reviews are based on my personal opinions and experience using the item. All opinions are my own and 100% honest.